...That proud Sciacchetrà 
pressed in the 'sprouty' cinque Terre
(G. D'Annunzio)
Corniglia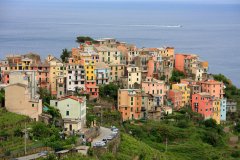 Corniglia
Ancient village of the Ligurian Riviera, part of the Municipality of Vernazza, it is the only village out of the 5 that doesn't overlook the sea directly. Corniglia is located between Manarola and Vernazza. The village is situated on a 90 meter hill.
To reach the village from the railway station you need to climb a staircase composed of 33 flights with 382 steps or take the carriageway. The origins of the village date back to Roman times. The village's name derives from Gens Cornelie, the family owner of this territory.

PLACES OF INTEREST:
• Parish of St. Peter;
• Main little square of the village, Largo Taragio, where there is the monument to the fallen and the Oratory of Santa Caterina. From here, a staircase leads down to the Marina of Corniglia (small port for a few berths);
• From a small square called "fosso" you can admire the city Tower, ruin of the Genoese fortifications on top of which you can enjoy a beautiful sea view;
• Along the way to Vernazza you can find the beach of Guvano, reachable by sea or through an ancient State Railways tunnel in disuse.

EVENTS:
Every summer the St. Peter Church hosts the Organ Festival of the 5 Terre. The patron saint is celebrated every year on June 29 with the traditional procession. Traditional during this celebration is the preparation of the typical "rice cake as well as the distribution of "Fieschi cake" in the little squares.
On September 8, is celebrated the feast of the Sanctuary of San Bernardino.
Affittacamere Dune Blu
Via Cristoforo Colombo 241, 19017 Riomaggiore (SP)
tel./fax +39 0187 920740
Mobi +39 349 4752882
info@duneblu.it
P. I. 01362340117