...That proud Sciacchetrà 
pressed in the 'sprouty' cinque Terre
(G. D'Annunzio)
Vernazza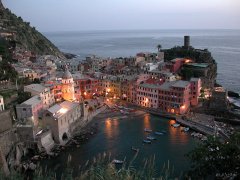 Vernazza
Municipality of The 5 Terre with 939 inhabitants. It has been recognized as one of the most beautiful villages in Italy. This territory is characterized by the traditional terraced vineyards. It is part of the 5 Terre National Park and is bordered by Pignone, Beverino, Riccò del Golfo. The first news about Vernazza date back to the year 1080.
During the XI and XII century, it was ruled by Obertenghi, the lords of Vernazza. On October 25, 2011 Vernazza has been affected by a severe atmospheric disturbance that caused serious damages to people, settlements and commercial activities, but fortunately it is already on the mend.
PLACES TO VISIT
• Parish Church of St. Margaret;
• St. Francis Church;
• Sanctuary of Our Lady of Reggio accessible by a path that starts from the railway station;
• Sanctuary of Our Lady of Grace in the village of San Bernardino;
• Castle of the Doria;
• Bastion Belfiore (at the mouth of the harbor)
EVENTS
On July 20th takes place St. Margaret patron feast. The village is filled with stalls and in the evening there is a firework show.
Pirate party does not have a fixed date but usually it takes place from July 22nd onwards. It starts with the simulation of the Pirate's mooring in the port and continues in the village with groups of musicians. Vernazza is reachable by train from Riomaggiore or through the carriage road from La Spezia, which connects all of the 5 Terre.
Affittacamere Dune Blu
Via Cristoforo Colombo 241, 19017 Riomaggiore (SP)
tel./fax +39 0187 920740
Mobi +39 349 4752882
info@duneblu.it
P. I. 01362340117