...That proud Sciacchetrà 
pressed in the 'sprouty' cinque Terre
(G. D'Annunzio)
Riomaggiore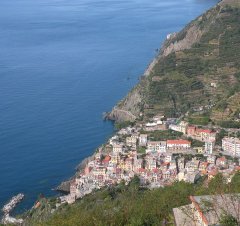 Riomaggiore
Riomaggiore is an ancient village of the eastern Ligurian coast (Riviera di levante) with 1693 inhabitants and it is called RIMAZU'U in the Ligurian local dialect. Its old historical center dates back to the thirteenth century and it is located in the valley of Rio Maggiore stream or Rivus Major, from where it takes its name. The village is made up by houses known as Genoese Towers that follow the stream.
In the second half of the nineteenth century the area around the railway station developed. The village also has a castle which spreads out along the coast named Campione. The Rio Maggiore valley is topped by the Mountain Vergola or VERUGUA characterized by three peaks that have become the emblem of the village.
Riomaggiore is part of the National Park of The 5 Terre.
The origins of the village can be traced back, according to an old legend passed down orally, to the VIII century. It is known that a group of Greek refugees, who escaped from the emperor Leone III of Bisanzi, moved to the tip of Montenero and formed few settlements in the ridge area. After the year one thousand, thanks to the expansion of the Republic of Genoa, the inhabitants of these primitive hill settlements moved down towards the sea and gave rise to the first nucleus of the village of Riomaggiore located in the district of "La Marina".
In the year 1276 Riomaggiore was sold to Genoa. Genovese dominion guaranteed a period of political stability and economical and commercial growth, the grape production was increased and local wines became famous throughout Europe. In the XIX century the railway line was accomplished between Genoa and La Spezia while the carriage road was opened only in the next century.
THINGS TO SEE RIOMAGGIORE:
Parish Church of St. John the Baptist in the upper part of the city center;
Saint Anthony's Church, in the historical center
Sanctuary of Our Lady of Montenero located on the hill overlooking the village, reachable also on foot through a path that starts from the parking area of ​​the village;
The historical center with its many little shops;
The famous Via dell'Amore, which starts from Riomaggiore railway station;
The grape harvest (the grapes picking for the wine production, the most famous 'wine Sciacchetrà') that takes place, depending on the season, from late August onwards
Affittacamere Dune Blu
Via Cristoforo Colombo 241, 19017 Riomaggiore (SP)
tel./fax +39 0187 920740
Mobi +39 349 4752882
info@duneblu.it
P. I. 01362340117