...That proud Sciacchetrà 
pressed in the 'sprouty' cinque Terre
(G. D'Annunzio)
Monterosso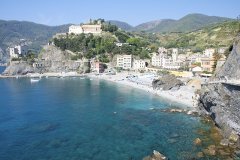 Monterosso
the town of Monterosso is located in the most western part of the 5 Terre, it is a municipality of 1499 inhabitants. Monterosso is in the center of a natural bay at East of Punta Mesco. To the west of the original village, you can find the village of Fegina where there is the railway station and the widest beaches of all the 5 Terre.
It is part of the 5 Terre National Park. The oldest part of Monterosso developed under the castle. Monterosso as well, has been strongly affected by the flood of October 25 2011 which caused many damages to people, settlements and commercial activities. Thanks to the strength and will of its citizens, today it is again one of the most beautiful villages of the 5 Terre.

PLACES TO VISIT
• Church of St. John the Baptist is located in the historical center;
• Convent of the Capuchin and Church of St. Francis;
• Hermitage of S. Antonio of Mesco;
• Sanctuary of Our Lady of Soviore;
• Statue of Neptune or "Giant", a reinforced concrete structure overlooking a beautiful beach;
• Villa Montale (summer residence of the poet Eugenio Montale)
• Punta Mesco: mountain which ends the gulf in front of Monterosso with striking cliffs. A walk of about one hour and fifteen minutes to Levanto.

EVENTS
On June 24 takes place the feast of the patron saint John the Baptist.
Monterosso can also be reached by train from Riomaggiore or La Spezia or through the 'Litoranea' that connects all the 5 Terre.
Affittacamere Dune Blu
Via Cristoforo Colombo 241, 19017 Riomaggiore (SP)
tel./fax +39 0187 920740
Mobi +39 349 4752882
info@duneblu.it
P. I. 01362340117